WPS Fur Baby Mew Mew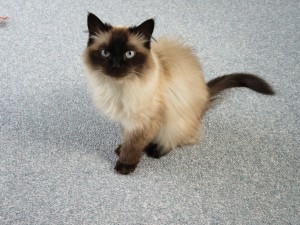 Photo & story by Mew Mew's mom
Mew Mew is a runt of a Ragdoll at 5 pounds.  She was adopted from a rescue organization at the age of 1 1/2 years.  At that time she had already had one litter.  The unregistered breeder had a few cats that she could no longer feed, so she gave them to a local cat rescue.  Mew Mew's actual birth date was not known nor her name.  The poor dear was skinny, losing hair and very quiet.  Brought her home and for the next two weeks she hid behind the couch. Slowly, in her own time, she ventured out.  After 6 months she came to my lap, curled up and fell asleep.  Eureka!
It took about 2 years for Mew Mew's full personality to come through.  She needed to be able to trust.
Twelve years later she is still a slight little girl, but with a beautiful coat and bright blue eyes. Loves to be brushed and will gently paw for more attention.  She does not like to be picked up so no Ragdoll flopping in your arms.  Still when she curls up it is hard to tell which leg is over or under what part of her body.
Mew Mew at true rescue success story.  We love you!
If you'd like read more WPS Fur Babies stories, click over to Ollie's story.