That time of year again to Nominate your favorite local business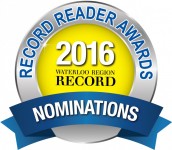 Every year, the Waterloo Region Record asks the community to nominate their favourite businesses, local people, and service providers that make a difference in your life, and add to our greater community.
Waterloo Pet Services is fortunate enough to have gotten a 2016 nomination in the category of "pet service". You can nominate and vote for us yearly by visiting The Record – Reader Awards – under pet-service.