WPS Fur Baby – Ollie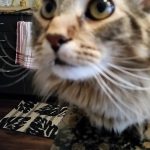 Ollie is the perfect mix of fun (with a little bit of wild in him) and cuddly. He is a Maine Coon so he looks (and acts) like a hunter/lion and is always down to play. We chase each other around my apartment and he gets lots of air when we play with the pole toys.
He is the most social cat I have ever met. He always needs to be in the same room with me; it's amazing that I get anything done at home.
He has been a great addition to my home in Waterloo; I can't imagine him not being there to greet me! If you'd like to read more WPS Fur Baby's stories, check out Badu's tail…I mean tale.