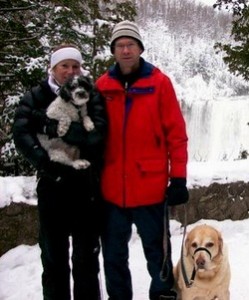 Murray Spackman and Janice Rigg, owners of Waterloo Pet Services, have over 20 years of pet care experience and have been around furry friends for all of their lives.
About Janice: The family dog "ITCH" (quickly renamed Chum) was not enough for Janice, whether it be a baby squirrel by the roadside, mouse, hamster or gold fish purchased from the neighborhood pet store, she would bring them all home. From taking in stray cats to caring for family and friends' pets, animal care was always part of Janice's life. Her "baby", a yellow Labrador named Arizona, taught Janice a lot about canine behavior. There were extensive training sessions (with different animal care professionals) to combat fear aggression, separation anxiety and other destructive behaviors. "This led me to understand the need for professional assistance and care in every pet's life". Janice is a Certified Professional Pet Sitter, certified in Pet First Aid,a member of Pet Sitters International and advocate of Grand River all Breed Rescue.
About Murray: Raised in multi-generational, medical family Murray was brought up in an environment of compassion and caring. From puppy births to untimely deaths he was fortunate to be a part of it all. The family raised medium size dogs and then bred Yorkshire Terriers (Canadian Kennel Club accredited). The kids cared for fish, hamsters and rabbits. In his own home, his children cared for their rabbits, guinea pig, hamster and turtles and Murray took in unwanted or abandoned cats. He is a Certified Professional Pet Sitter, certified in Pet First Aid and a member of Pet Sitters International. Being a single father he is well acquainted with the mess small children and animals can create.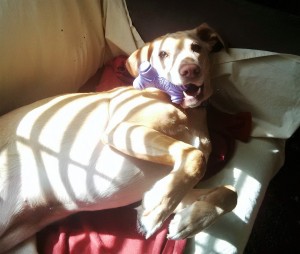 Murray and Janice now live in Kitchener with their dog Skylar and are taking their love and experience with pets into a service to assist you in giving your pet the best care possible.
---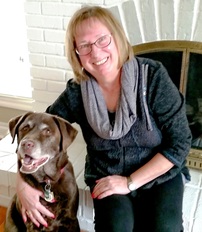 Marion Hunsperger : our part time Administrator.
Marion & Katie have been with us since the beginning and have been a pleasure to deal with in every capacity.
Marion has a back ground in Human Resources and Office Administration In the  time she has been with WPS she has expanded the office and is working on streamlining our scheduling and invoicing procedures.  She will be happy to answer any questions you may have about Waterloo Pet Services.
She can be contacted at: admin@waterloopetservices.com
---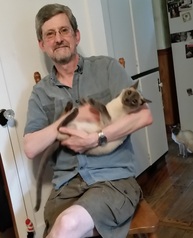 Mark Irschick: Independent Contractor
Mark is Pet First Aid certified, bonded and insured under the Waterloo Pet Services banner. He has been an animal enthusiast for most of his life, being a pet parent to birds, dogs and cats. Mark worked for the Essex County & Toronto Humane Societies as the Lead Hand and in numerous vet clinics over the years.
Mark has the experience and knowledge that comes with working with animals under stress and understands both body language and needs for all the fur babies in his care. He gained invaluable experience working with domestic and wild animals of all types and temperaments. Presently he parents Pi and Tam who are Siamese cats and a bundle of energy!