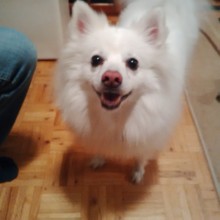 Janice and Murray,
Thank you so much for the care you gave Luna while I was away on vacation.
Your patience and extra time taken to get to know her and make her feel comfortable paid off. She is a nervous dog and doesn't make friends easily but you managed to win her over.
I won't hesitate to call on you again now that I know how easy it will be.
Denise Benninger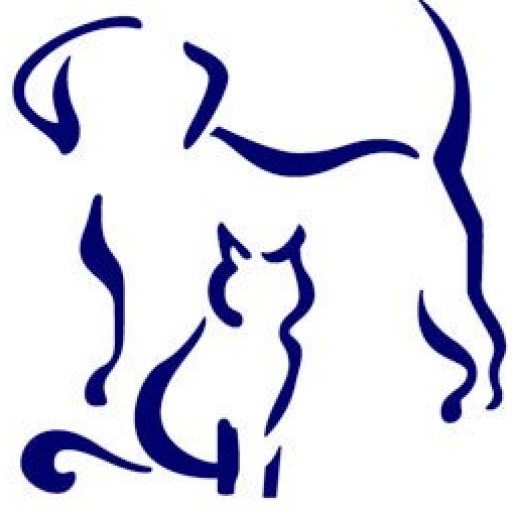 "Waterloo Pet Sitters cared for my four cats and four aquariums recently for two weeks while I was away on vacation.
Janice and Murray are warm, caring people and they did an excellent job. They were patient and gentle with the cats
and ensured they were eating their meals and
were careful to feed the fish their proper amounts.
They were entrusted with adding medications to two cats' food and were conscientious and meticulous about this They also watered plants, cleaned up and took care of litter and trash.
All cats, fish and plants were in great shape when I returned and I'd recommend Waterloo Pet Services to anyone!
I was so pleased and will definitely use their services again.
-Sue Becker
Animal Communicator & Consultant
Kitchener, Ontario
---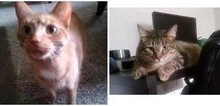 Aaron and I just wanted to thank you so very much for everything you did for Roscoe and Cheeto while we were away. We came back to two very happy boys

The card you left, the emails and pictures you sent while we were away, and detailed notes you took were such nice and unexpected touches. We couldn't be happier with the service you provided and we will definitely be in touch to see if you're available the
next time that Roscoe and Cheeto need a sitter. We have also passed your
information along (coupled with glowing endorsements) to several friends who
have cats or dogs. Many thanks again!
All the best,
Mandy
Amanda Forest
Social Psychology
University of
Waterloo
---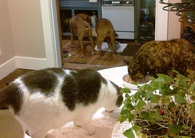 Good Morning Janice and Murray,
We all wish to thank you for an excellent job!Every aspect of your service was delivered with the greatest quality and care.
Please use us as reference any time as we will be most happy to give you a totally glowing and excellent reference.All the babies are in such great shape. Thank you for the wonderful contact notes as well. Wow, great service and care.
Sincerely,
All the Blisset's, two and four legged=)
---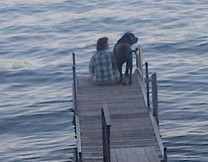 Hi Murray and Janice,
I wanted to thank you so much for looking after Dozer this past weekend and at such short notice too. I had a worry free weekend knowing she was was in your care. I also enjoyed the updates and the diary of her weekend adventure, again thank you Waterloo Pet Services.
Colleen Dostle
---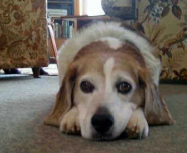 Janice Rigg and Murray Spackman have been looking after our beagle off and on since we became his owners. Sam, the beagle, came to us 8 years ago as a rescue and is now 13 years old. Janice and Murray have been our 'go to' caregivers since we've owned him. We have left Sam with Janice and Murray for up to 3 weeks at a time and often, after these longer stays at their place, he's not sure he wants to come home!
Murray and Janice truly care about Sam and we never hesitate to leave him in their care. They are attentive and playful, yet firm and consistent and Sam responds well to them.
We feel confident that the care he gets is excellent. Janice and Murray often share tidbits of information that are very helpful around behaviour, grooming, and being with other dogs. They administer his medications, give him occasional baths and even do his nails! Sam looks forward to his times at "Camp Jackson" and is always happy to see hem. This puts our minds at ease. We highly recommend their services and put utmost trust in the care they provide.
Judy Halpern
---

Catherine, Jangles, Haiku, Fluffy (Anise), Luna and I would just like to add our testimonial to all the other glowing ones you guys have gotten. Murray and Janice took care of our four cats, one needing medication, for about two weeks. Our airline had a strike so we had to extend our vacation for three days, and it was no problem for Waterloo Pet Services. You guys are real
professionals, our cats are older so I laughed out loud with the report "tried to play but nobody interested". Thats our cats! Most of our cats are rescues with tummy problems, which was no problem for Janice and
Murray. They also kept our bird feeder filled and put food outside for the stray cat that roams about. They emailed us updates, so we had a worry free vacation- at least as worry free as possible. We really appreciate how good you guys are, and will be contacting you again next trip.
Mike Archibald/CatherineTaylor
Jangles/Fluffy/Luna/Haiku
---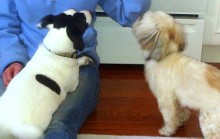 Janice and Murray,
Thanks so much for your wonderful care of our two little fellows. (I so appreciate your report card!) , and thanks so much for the pictures. It's lovely to see them with you. I am very grateful for the attention and care that you and Murray are giving them. and, I appreciate the sensitivity that you have to Fergus' responses. He is really doing well.
Regards,
Gwen Sears
---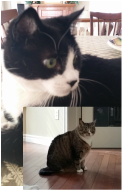 Thank you so much for taking such excellent care of our two kitties…Sammy and Bentley. As soon as we met you we knew you were kind and caring people, and we felt completely
comfortable entrusting you with Sam and Bent.
We so appreciated the daily updates, emails and photos. You run such a professional service! It felt as if we weren't really away from Sam and Bent.
Sammy gave you her own glowing testimonial by coming out to see you…Sammy has never come out for anyone before… clearly you have the magic touch with animals (pets). And a huge thank you for looking after things around the house. Tony and I give Waterloo Pet Services our highest recommendation. You let us have a terrific carefree vacation and we'll certainly be calling you for our next "time away"

Margaret and Anthony Kiskis
---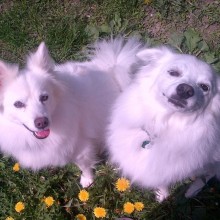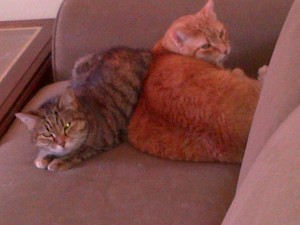 Janice & Murray have been visiting our mini-zoo every weekday for the past school year, and have been fantastic.  They're organized, reliable, and regularly go above and beyond to help with advice and training for the dogs.   Additionally, while we were on vacation they were coming to check on our cats and our house, and managed to discover an issue with our furnace in the middle of the super cold winter and ice-storm.  Thanks to their diligence, the issue was fixed before any major problems occurred.  Most importantly, all our animals love them!
Christie Arthurs
---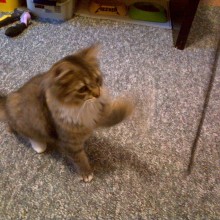 We had to leave for the long weekend but we were worried about leaving Hesher.  We found Waterloo Pet Services online and after meeting them in person we knew they would take great care of our kitten.  The piece of mind knowing that she would be taken care of was worth the price alone.  These people played with her, sent us pictures of a happy Hesher while we were in Pittsburgh, they cleaned her litter daily, they fed her and most importantly, kept her company.
We came home to a daily log of their days with Hesher, how much she ate, how she was feeling etc.  It was really amazing, and we never expected this kind of care.
We will definitely be using these services again on our next trip out of town.
Johny, Laura, and Hesher.
---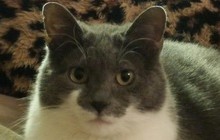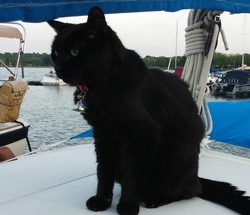 Hi Janice & Murray,
Thank you so much for looking after Pepper and Samson. As 'parents' of our still untouchable, feral Pepper and our senior citizen Samson, we were surprised that you would even consider taking us on. We were so impressed with the very detailed daily diary and emails or text messages and appreciate that you kept us informed and up-to-date. Then, a few days later, when a family emergency caused us to unexpectedly go out of town, you very kindly managed to squeeze us into your busy schedule.
Samson is not a friendly cat and we were surprised that you won him over. Although Pepper spent her time in her safe place, under the couch, she actually seems a bit more socialized since our return. Perhaps someday, we might be able to pat her.
Extreme thanks for being such wonderful substitute parents for our two "kiddens."
Lynda & Ralph Daehn